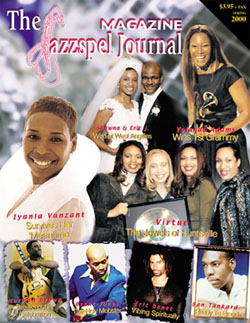 The Jazzspel Journal Magazine
In 1997, I founded The Jazzspel Journal Magazine, a national jazz and gospel periodical. It began as a souvenir publication commemorating the third year anniversary of The Jazzspel radio program.
To celebrate, I promoted a Jazzspel concert at San Diego's beautiful, picturesque Point Loma Nazarene College featuring Yolanda Adams, Ben Tankard and Inger Reid.
Rather than putting together a run-of-the-mill black and white photo-copied booklet, I felt with my many years of journalism experience—there should be a significant difference in my work in comparison to someone who had no journalism experience.
Thus, The Jazzspel Journal Magazine was born with me as the publisher and editor-in-chief. I gave copies of the souvenir edition to some of my high profile church members from West Angeles Church of God in Christ in Los Angeles, including Vesta, Robert Townsend, Arthel Neville and Denzel & Pauletta Washington. It was the Washington's "impressive" response that really inspired me to take it to the next level—from souvenir booklet to an actual magazine.
After researching the internet for more info on publishing, we finally launched with a premiere party at the Shark Bar in LA. The magazine has been sold throughout the country and we've received wonderful letters from as far away as Japan, London, France and Africa! The Lord really expanded our territory.
The initial publication featured the artists performing that night's concert. Since, other issues have featured stories on such artists as Kenneth "Babyface" Edmonds and his wife Tracey, Everette Harp, Rachelle Ferrell, Tonex, Dr. Fred Price, Jonathan Slocumb, Kirk Franklin, Trin-i-tee 5:7, Kirk Whalum, Doc Powell, Chante Moore, Seal, Nathan East, Angella Christie, Prophetess Juanita Bynum, Terri Carroll, CeCe Winans and the legendary Frankie Beverly who told me this was his first front cover in over 30 years in the music business! I was honored.
Look for the return of The Jazzspel Journal Magazine in the spring of 2004.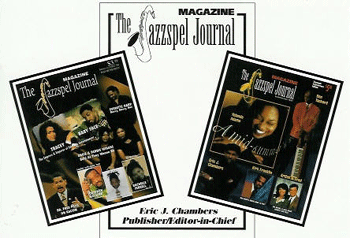 Call or write for advertising and
subscription information.
The Jazzspel Journal Magazine
7510 W. Sunset Blvd. Suite 516
Hollywood, CA 90046
E-mail: jazzspel@lords.com
(818)-833-7JJM or (619)-965-ERIC